A Fuse #8 Production: Digest Edition
Digest
/
v.
dɪˈdʒɛst,
daɪ-;
n.
ˈdaɪ
dʒɛst
/
Pronunciation Key
-
Show Spelled Pronunciation
[
v.
di-jest,
dahy-;
n.
dahy-jest
]:


1.to convert (food) in the alimentary canal into absorbable form for assimilation into the system.
2.to condense, abridge, or summarize.
3. to plunk together in a veritable hodgepodge.
4. to give the author of a particular blog the excuse she needs to work the word "hodgepodge" into one of her postings.
Here are some trinkets and tidbits of an especially shiny nature that I've not had time to properly digest this week. Between this and that my brain is not working to its full capacity. Fortunately that means that the brains of others work where mine has ground to a rusty dusty halt.
Less excuses. More postings.
First on the list is Roger Sutton. You all know Roger. Editor of Horn Book. Bearer of the sacred throat vinculum. This week, he
mentioned
that the Horn-Book Globe Book Awards committee is beginning their deliberations and you are invited to offer your bets on who the winners might be. So exciting! I side with the commenter that suggested that
A Drowned Maiden's Hair
finally get its due. Roger also done went and linked to the article
Circle of Cliches
via
The Daily Telegraph
. I'll have to speak more on this later this week. It talks about the words or phrases reviewers love far too much. I know that for my part there are certain comfort turns of phrase that I'll reuse more often than I really should. Give the piece a glance alongside
Roger's response
.
Thanks to
Children's Illustration
we got a glimpse of some remarkable movie posters from back in the day. Blogger Michael Sporn also offered this great bit of info:
Through Aug. 1, the Posteritati Movie Poster Gallery (239 Centre St.) lets New Yorkers escape into the past with a collection of art from fantasy films ranging from 1937's "Snow White and the Seven Dwarfs" to modern-day favorites like "Raiders of the Lost Ark" and "The Incredibles."

Gallery hours are Tuesday - Saturday, 11 a.m. to 7 p.m.; Sundays, noon to 6 p.m.
If that means I get to see posters like this 1960 Czech image of Dumbo then I'm in.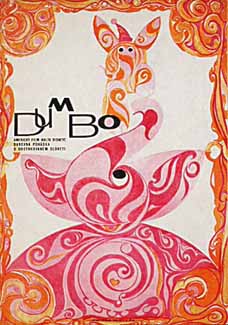 Those of you in town for Book Expo might want to consider making a side trip.
The Longstockings
may have a lock on the Pippi blog name, but that doesn't mean you shouldn't shoot on over to
the excelsior file to read David Elzey's view
from an adult perspective of Sweden's hitherto best-known redhead. Great opening sentence too. "Pippi scared me when I was young."
If the webcomic
Questionable Content
is unknown to you, watch and learn.
This one
goes out to all the librarians out there. I've never heard the term "shush" sounds so very very dirty.
And because of
Mo Willems
I now know that Jon Scieszka has a
new website
. It's very nice. I'm particularly fond of the map that shows
Population That Wishes They Were Reading Scieszka Books
. The one thing I would change? I want that big scary picture of Jon at the top to say "Gleep" unexpectedly and without warning. Is that too much to ask?
Finally, I've been memed. I'll meme it right back tomorrow. Cross my heart.
Labels: Dumbo (Not Located in Brooklyn), Jon Scieszka, Movie Posters, My Spell Check Doesn't Recognize the Word "Vinculum", pippi longstocking, Questionable Content, Roger Sutton